The story of Big and Little Brother, Tristan and Greg 
With your donations we are changing children's lives for the better,  forever!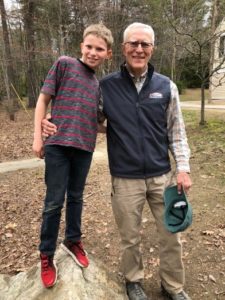 When Melissa first came to Big Brothers Big Sisters of Bath/Brunswick seeking a Big for her son Tristan, she had recently separated from Tristan's stepfather. Melissa and Tristan were without a home, living at the local family shelter. Faced with these adversities Melissa was concerned that without a caring male presence, Tristan would not have the help he needed to grow his self-confidence, to be assertive and become resilient. Melissa felt that having a Big Brother – a positive male role model – would, "help Tristan in every way," during a time when he needed it most.
Greg was encouraged to become a Big by his two grown daughters. "I have a strong commitment to helping young people and doing so in a one-to-one relationship seemed like a natural extension." Tristan was matched with Greg in 2015. Greg introduced Tristan to fishing, canoeing and woodworking. They have enjoyed exciting new experiences like sailing and ropes course challenges. Tristan has introduced Greg to Star Wars and the world of Sci-Fi. An avid cyclist, Greg has helped nurture Tristan's interest in bicycles and the pair has enjoyed long bike rides. Tristan joined the Bike Club at school and this spring Greg helped Tristan tune up his bike.
Through their outings, conversations and his consistent acts of caring, Greg is helping Tristan on a better path. Melissa has noticed improvements for Tristan since being matched with Greg. She shares that Tristan is developing coping skills and becoming more comfortable in group settings and in school. Greg has been a great help in encouraging Tristan to try new things and expand his comfort zone. Greg says:
My approach to helping Tristan is to find opportunities to give him life lessons that will guide him through difficult times. In the three years we've been together he has grown confidence and is resilient when facing problems at school and at home.  "
You can help children like Tristan gain confidence and build resilience through professionally supported one-to-one Big and Little mentoring relationships. Tristan is just one of 284 children who had a Big Brother or Sister in 2017. We rely on the community to fund our programs. Please donate to our Mentor Match Fund. Your donations support our professional staff to recruit, screen and train volunteers; to make solid, lasting matches, and provide ongoing support to every Big, Little and family enrolled in our programs.
Seventeen children are currently waiting to be matched and we need to raise $17,000 to insure this happens. Your gift made today will help make this possible. Although we appreciate your contributions at any time, we hope to raise these needed funds before school starts in the fall. We greatly appreciate your support as it means so much to the children who are waiting, to their families and to our community.