Calling ALL walkers/hikers, runners  & VOLUNTEERS!!  
THE MURPH IS BACK!!

SATURDAY, MAY 6, 2017
"The Murph" is a mixed-terrain, 5-mile race on Bath's beautiful Whiskeag Trail in memory of :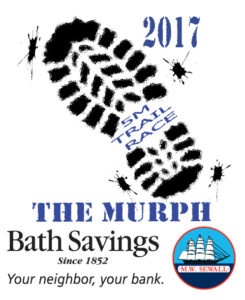 Navy Seal, LT Michael P. Murphy.
All proceeds support:
The Michael P. Murphy Scholarship
Big Brothers Big Sisters of Bath/Brunswick
Fields for Our Future
Bath Parks and Recreation Dept.
Where & When: 
MCMANN ATHLETIC COMPLEX
Congress Avenue Bath
Registration 7:00a.m. - 8:00a.m. SHARP - Walkers and Runners-8:30a.m. Race Start "TEAMS" are welcomed and receive a registration discount!!
Register online at: bathrecreation.com
Email Lindsay to learn about how YOU can VOLUNTEER at this event: director@bbbsbathbrunswick.org
Murph 5 Mile Race Volunteer Tasks 2017 (3)
Learn More About the Lt. Michael P. Murphy Memorial Scholarship Foundation