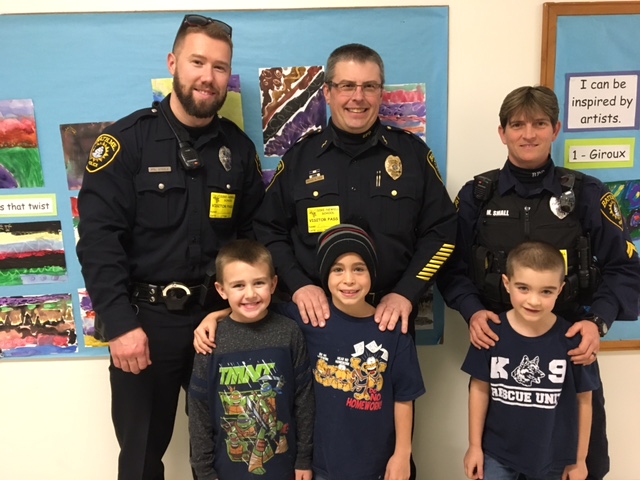 Each year we look forward to sharing our progress with our donors. You have become an important partner in our efforts to ensure that the youth in our community have higher aspirations, more confidence, better relationships and ultimately greater success.
We rely entirely on funding from local foundations, corporate partners and our private donors. Your contributions to our organization have helped build success. We are profoundly grateful for your trust and support.
 2017 Highlights
In the fall of 2017 Big Brothers Big Sisters of Bath/Brunswick launched Bigs in Blue, a program aimed at recruiting local law enforcement to serve as mentors to youth in their local community.  Partnering with the Bath Police Department, we launched a pilot program matching three officers with students in our School-Based Mentoring Program at Dike Newell Elementary School. The program is part of Big Brothers Big Sisters of America's national initiative focused on building relationships between law enforcement and the communities they serve. The program provides youth facing adversity with a one-to-one mentoring relationship with a law enforcement officer, and in so doing builds a bridge between the community and law enforcement.
Impact in 2017
We served 284 children and 284 volunteers in 2017.
We recruited 21 new adult Community-Based and School-Based Bigs (13 female and 8 male).
We matched 148 Middle, High School and College Bigs with Littles.
More than 17,000 hours of volunteer service per year was completed through our programs.
We supported 18 School-Based Mentoring Programs at 13 elementary/middle schools.
Our Bears and Cubs Program at Bowdoin College mentored 45 children.
In all of our mentoring programs, each match is professionally supported by program staff, which includes volunteer screening, training, and continued monitoring of the match.
Program Impact:  our teachers and mentors report that the 88% children we serve have increased self-confidence, 72% of children were better able to avoid substance abuse, 32% of children were better able to avoid delinquency, and 63% showed improved academic performance. The following quote from one of our parents says it best:
"Thank you all so much for your dedication and commitment to my son and his development! He is so lucky to have his Big Brother and be part of this program! "
–Somer, parent of a 7 year-old Little Brother
In 2017, we had three Littles graduate from high school and are now pursuing post- secondary education. This year we have several nearing graduation and are considering post-secondary opportunities.  Each of these Littles had a Big for at least 4 or 5 years.  Mentoring has proven repeatedly to provide a path out of poverty.  76 percent of our littles are living near or at the poverty level.
Our focus for 2018 is to recruit more Big Brothers as we have many boys waiting for the right Big. We also hope to meet the requests from local schools to expand our mentoring programs. Our growth in service completely depends on volunteers and the financial support that we receive from our donors, foundations, and businesses. We are very appreciative of our annual corporate partners; Bath Savings, Bill Dodge Auto Group, Burgess Technology Services, Crooker Construction, Hannaford, Norway Savings, RE/MAX Riverside, and Times Record.
Thank you for putting your trust in Big Brothers Big Sisters of Bath/Brunswick. This year we celebrate our 37th year, we are grateful to have donors like you. Please feel free to stop in at our office in Brunswick or if you would like a personal visit with me please let me know. It would be my pleasure to provide you with more information about our mentoring programs.